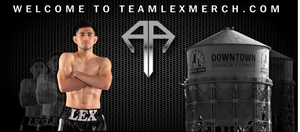 Alexis Rocha
At 25 years old, southpaw phenom Alexis Rocha has wasted no time in his pursuit of boxing gold and glory. The brother of Ronny Rios, Rocha was the youngest fighter to win a gold medal at the Junior Olympics at 14 years old in 2012 and caught the attention of the boxing world as he continued on to become a six-time national champion during his amateur career.
Subscribe to our newsletter
Promotions, new products and sales. Directly to your inbox.